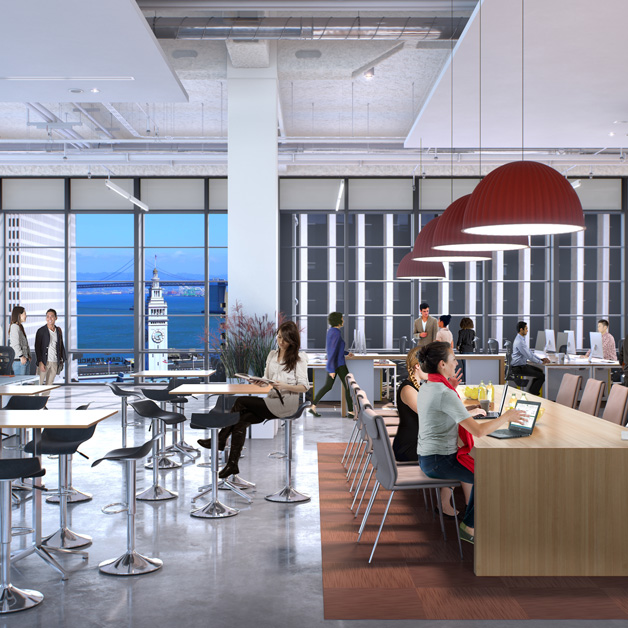 New top floor office space at 100 California Street offers stunning 17-foot ceilings, full height windows and private roof deck opportunity
SAN FRANCISCO, June 21, 2017 – Pembroke Real Estate today announced the completion of 20,000 square feet of new premium office space at the top of 100 California Street (40,000 square feet of contiguous office space is available to lease including the floor below).
Designed to meet the needs of today's businesses and San Francisco's creative culture, this newly constructed floor provides an ideal work environment with unrivaled 17-foot ceilings, exceptional 360 degree views, flexible, open floor plates and the opportunity for a 4,000 sq ft, private roof deck.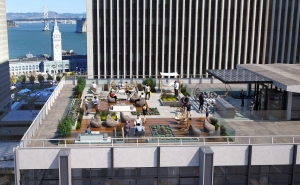 "When we acquired the property in 2014, we set out to re-imagine a mid-century modern building to meet the needs of today's San Francisco business culture. With the completion of this new floor, the recent addition of outstanding tenant amenities, and a complete replacement of all major building systems, we are confident that we've done just that – while all along respecting the property's history as an important part of the San Francisco skyline," said Cory Saunders, vice president and head of San Francisco operations for Pembroke Real Estate.
The latest renovations follow several recent upgrades by Pembroke to the property. Tenants have taken advantage of 100 California's large, newly activated lobby, plaza and retail services as an extension of their workspace.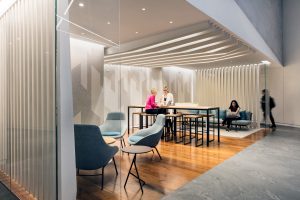 For those who jog or bike to the office, 100 California's market leading end-of-trip facility has room to store over 100 bikes, a bike repair station, health-club quality showers, 108 lockers and complimentary towel service. "The combination of premium office space with flexible work areas and amenities focused on health and wellbeing makes 100 Cal such a great place for companies looking to establish or grow a presence in this market," commented Saunders.
The transformation of 100 California has steadily attracted leading tenants to the property. Since acquisition, Pembroke has leased roughly 160,000 sq ft at the building and most recently welcomed Segment, a San Francisco-based online hub for collecting, storing, and routing customer data to be used in analytics, marketing, and data warehousing services, in addition to Hope Lab, a non-profit focused on improving the health and well-being of kids and young adults by creating engaging, tech-enabled solutions backed by rigorous research.
"Segment and Hope Lab are both great additions to 100 Cal," said Saunders. "Their emphasis on employee wellbeing and collaboration makes them the ideal fit with our vision for the property and we know that they will fully take advantage of and benefit from their space and our new amenities."
Bill Cumbelich and Patrick Devinger of CBRE represented Pembroke Real Estate. Pat Hubbard of Samsome Street represented Segment and Desiree Harbacek and Steve Salomon of CBRE represented Hope Lab.
With the recent acquisition of 140 New Montgomery in San Francisco and significant development and renovation projects in Washington, DC, London, Melbourne, Stockholm, and Tokyo, Pembroke Real Estate continues to introduce global best practices and incorporate them for the benefit of their tenants.