Thrive in a central
downtown location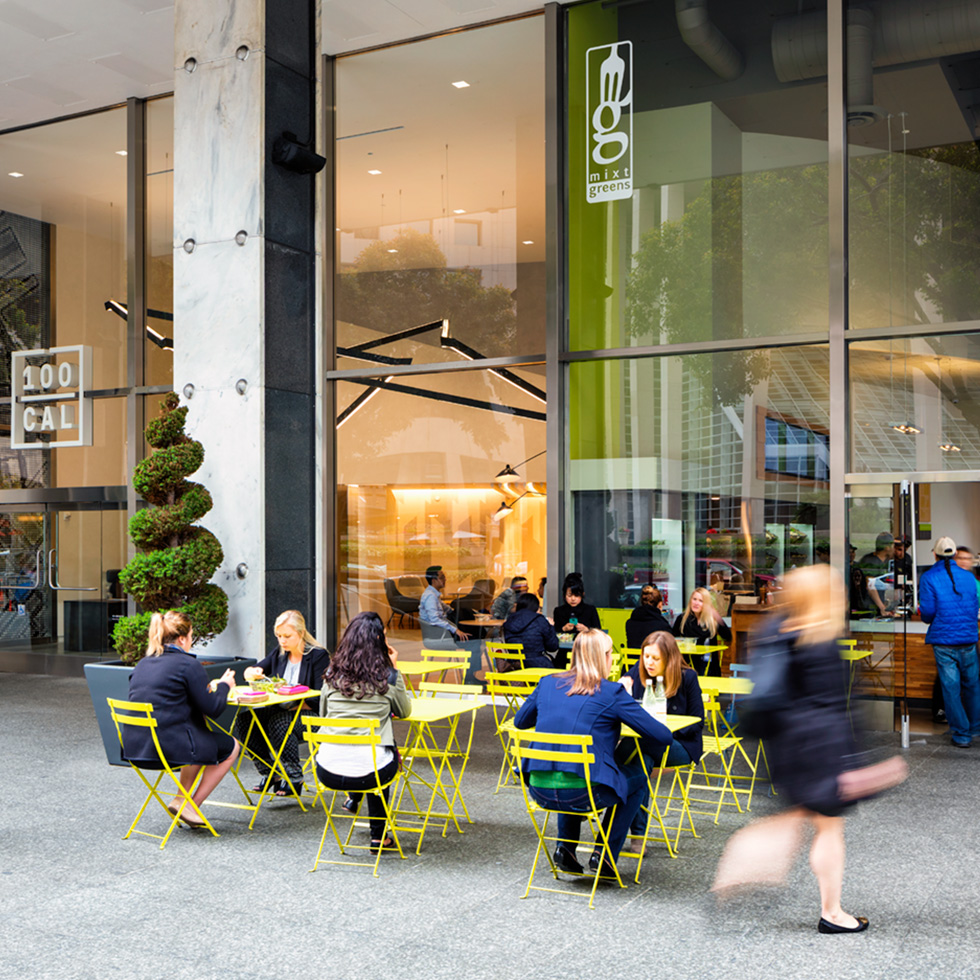 100 Cal Plaza
One block from Market Street, steps from all public transportation, across from the Embarcadero Center, and a short walk from the Ferry Building—100 Cal is an ideal business location.
Neighborhood Amenities
Tadich Grill
Location for fresh fish & classic cocktails with an old-school setting & a buzzy atmosphere.
The Slanted Door
Trendy Charles Phan eatery serving modern Vietnamese fare in a glass-heavy space with bay views.
Gott's Roadside
This retro eatery offers locally sourced burgers, fish tacos & beer, plus outdoor picnic tables.
Pressed Juicery
Cold-pressed juices & cleanses are the specialty of this high-end regional chain.
Super Duper Burgers
Counter-service chain branch using local ingredients in burgers, fries, organic milkshakes & more.
One Market Restaurant
Upscale New American eatery with an extensive wine list, banquette seating & Embarcadero views.
Blue Bottle Coffee
Trendy cafe chain offering upscale coffee drinks & pastries, plus beans & brewing equipment.
Hog Island Oyster Company
Local oysters & clams are washed down with craft beer at this popular waterside seafood eatery.
MarketBar
Ferry Building cafe with market-sourced American food & enclosed sidewalk seating.
Soul Cycle SoMa
Physical fitness program in SF
Tender Greens
Modern, cafeteria-style chain serving area sourced, globally influenced plates, sandwiches & salads.
The Plant Cafe Organic
Modern chain cafe serving organic veggie burgers, juices & other healthy staples.
The Ramen Bar
Tokyo-style ramen is served up with a slew of fresh ingredients plus gluten-free noodle options.
Peet's Coffee
Berkeley-born chain featuring signature coffee, tea & blended drinks alongside baked goods.
Starbucks
Seattle-based coffeehouse chain known for its signature roasts, light bites and WiFi availability.
Focaccia Market and Bakery
Sophisticated takeout spot fixing up gourmet sandwiches, salads & hot entrees, plus breakfast bites.
The Bar Method
Physical fitness program in SF
Chipotle Mexican Grill
Fast-food chain offering Mexican fare, including design-your-own burritos, tacos & bowls.
Blanc Et Rouge
International wines pair with snacks, flatbreads, cheese & charcuterie at this chic & colorful bar.
The Melt Embarcadero
Sleek, counter-serve chain known for its panini-style pressed sandwiches & hearty soups.
Royal Exchange
Pub grub, lots of beers on tap & TVs tuned to sports highlight this popular Financial District bar.
Schroeder's Restaurant
Historic German beer hall (since 1893) has bratwurst, boot-glass beers, Oktoberfest parties & more.
PABU Izakaya
A sleek space with a buzzy ambiance, this high-end spot offers classic Japanese cuisine in style.
Perbacco
Upscale, bi-level restaurant serving a seasonal menu of Piedmont-influenced Italian fare & wines.
Anderson Bakery
Global bakery chain specializing in European-style fresh-baked bread, pastries & light fare.
Philz Coffee
Laid-back local chain specializes in custom-blended coffees, plus teas, specialty drinks & pastries.
Cafe Madeleine
Small counter-service cafe & bakery serving coffee, muffins, pastries, sandwiches & more.
Coffee Cultures
Modern, grab-&-go spot with a few seats for Counter Culture Coffee, artisanal fro-yo & pastries.
Blue Bottle Coffee
Trendy cafe chain offering upscale coffee drinks & pastries, plus beans & brewing equipment.
Montgomery St. Station
Bart: Dublin/Pleasanton - Daly City, Fremont - Daly City, Pittsburg/Bay Point - SFIA/Millbrae, Richmond - Daly City/Millbrae, Warm Springs/South Fremont - Daly City
24 Hour Fitness
Full Service Gym
Specialty's Cafe & Bakery
Weekday-only counter-serve chain cafe serving baked goods & light breakfast/lunch fare.
Ann Taylor
Women's apparel chain focusing on fashionable office wear, casual separates, shoes & accessories.
Allen Edmonds
This upscale retailer with handcrafted leather shoes & accessories also sells apparel & golf gear.
Banana Republic
Clothing chain featuring classic, stylish pieces for men & women, plus shoes & accessories.
Ambassador Toys
Compact toy retailer stocks a wide selection of toys, art supplies & educational products for kids.
Beckett & Robb
Men's clothing boutique specializing in bespoke suits, plus its own line of seasonal ready-to-wear.
Black Tie Tuxedos and Couture
Classic showroom stocking premium designer suits & formal attire for men, plus tuxedo rentals.
Edwards Everything Travel
High-end luggage, travel accessories & leather goods are the draw at this relaxed mall outpost.
Gap
Clothing store in San Francisco, California
Giants Dugout Store
Apparel & memorabilia of the San Francisco Giants available out of a mall-based setting.
GNC
Retail chain selling health- & sports-related vitamins, supplements & herbs, plus drinks & snacks.
Hyegraph Invitations & Calligraphy
Invitation printing service in San Francisco, California
Jest Jewels
This long-running, brightly decorated small-chain outpost offers jewelry, scarves, bags & gifts.
L'Occitane en Provence
France-based chain selling skincare, bath & hair products (many made with natural ingredients).
LOFT
Women's apparel brand known for its careerwear, dresses & separates in contemporary styles.
Lucy
Fashion-forward yoga, running & workout wear & accessories for women.
Naturalizer
Footwear chain carrying women's shoes, handbags & accessories.
Papyrus
Upscale chain for stationery & greeting cards, also offering gifts & personalized invitations.
Peninsula Beauty
Beauty salon in San Francisco, California
Ritz Jewelers
Jeweler in San Francisco, California
Sephora
Sephora is a French chain of cosmetics stores founded in 1969. Featuring nearly 300 brands, along with its own private label, Sephora offers beauty products including makeup, skincare, body, fragrance, nail color, and haircare.
SF Gift Baskets
Gift basket store in San Francisco, California
The Humidor
Cigar shop in San Francisco, California
Mixt
Eco-minded local chain serving gourmet salads & sandwiches in a modern, counter-serve setting.
Embarcadero Station
Bart: Dublin/Pleasanton - Daly City, Fremont - Daly City, Pittsburg/Bay Point - SFIA/Millbrae, Richmond - Daly City/Millbrae
Transit Stop
Light Rail: F
MUNI: 2, 6, 9, 21, 31, K-OWL, L-OWL, M-OWL, N-OWL, T-OWL

San Francisco Ferry Building Terminal
Gate B: Vallejo Ferry
Gate E: Alameda/Oakland & Harbor Bay Ferry
Golden Gate Ferry Terminal
Sausalito, Tiburon, and Larkspur Ferry
The California Street Cable Car
The California Street line runs East-West from the Financial District, through Chinatown, over Nob Hill and stops at Van Ness Avenue.
Metro Embarcadero Station
Light Rail: J, KT, L, M, N
Golden Gate Transit
Buses: 2, 4, 8, 18, 24, 24X
MUNI
1AX, 1BX, 31AX, 31BX, 38AX, 38BX
Stop ID 13851